Latest StrapOnSquad.com Updates
Kendra Cole, Marina Angel
July 15, 2016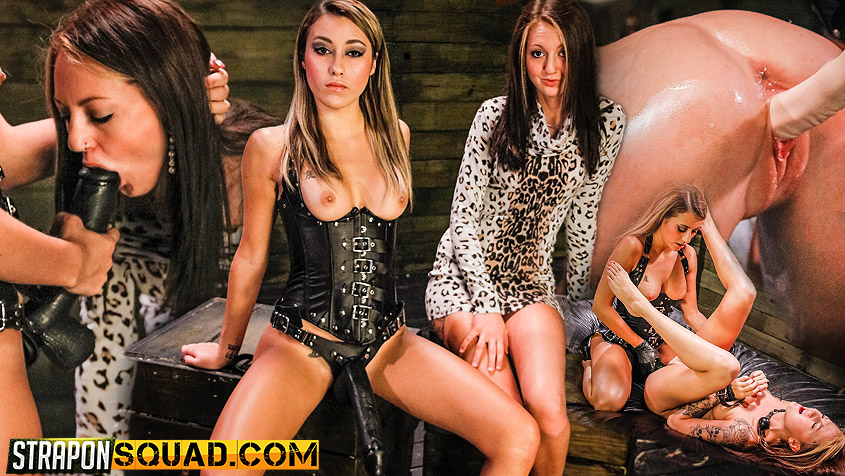 Kendra Cole loves playing around in our dungeon, having the kind of fun an obedient BDSM slaves can endure for hours. This young babe has met her match with BDSM Mistress Marina Angel. Marina has plenty of experience in lesbian domination, deepthroat BJs, rough sex, hardcore leather and chain bondage, spanking, tit slapping, face smacks, sex toys, but as a submissive. She tosses Kendra around into different positions with masterful ease, shoving her big black strapon dildo deep down her throat, fucking her doggy style, on her back, pulling her on the rubber cock for a cowgirl ride, pounding her fast and hard with more sex toys. Marina couldn't resist and starts the session Kendra Cole on her knees for pussy eating, ordering Cole to make her Mistress orgasm.
Autumn Kline, Esmi Lee
July 8, 2016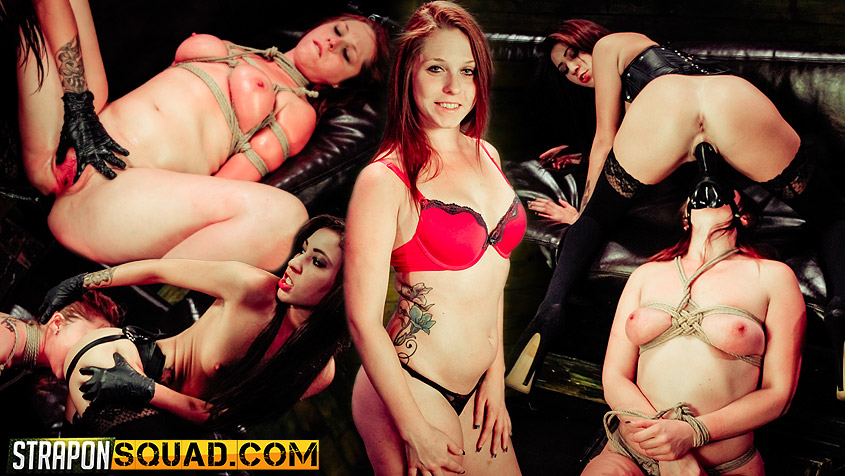 Autumn Kline can't decide if wild sex is better with a woman or man. She has become an obedient BDSM sex slave, ready to endure extreme fun for hours. This hot ginger babe has met her match with BDSM Mistress Esmi Lee. She's the queen of lesbian domination, rough sex, hardcore leather and chain bondage, breast bondage, spanking, tit slapping, face smacks, prepped with sex toys. She tosses Autumn around into different positions, shoving her big black strapon dildo deep down her throat, fucking her doggy style, on her back, pulling her on the rubber cock for a cowgirl ride, pounding her fast and hard with more a dildo-on-a-stick. Esmi gives us all a surprise and starts the session with a dildo attached to Kline's face and cums a few times, ordering her slave to fuck her Mistress.
Rose Red Tyrell, Mila Blaze
July 1, 2016
Rose Red Tyrell loves crazy wild sex, the kind obedient BDSM slaves can endure for hours. This hot ginger babe has met her match with BDSM Mistress Mila Blaze. She's put in plenty of time practicing lesbian domination, rough sex, hardcore leather and chain bondage, breast bondage, spanking, tit slapping, face smacks, sex toys, all on a bench. She tosses Emma around into different positions, shoving her big black strapon dildo deep down her throat, fucking her doggy style, on her back, pulling her on the rubber cock for a cowgirl ride, pounding her fast and hard with more sex toys. Mila Blaze starts the session with a dildo attached to Rose's face and cums a few times, ordering Red to fuck her Mistress.
Layla Price, Isa Mendez
June 24, 2016
Mean and sultry BDSM Mistresses Isa Mendez and _ have brought back sub slut Layla Price. She was such a obedient and strong sex slave, gladly taking everything she was given. Isa and _ want more. That's all it takes around here for a lesbian domination threesome. Layla Price ends up on a crate, frozen in bondage, hands tied down by her side, legs kept open for the fucking machine Isa and _ brought for their slut. They attached a thick long dildo to open her up. _ enters the dungeon and flips on the machine while Isa introduces Layla to her big black strapon dildo again, deep down her throat, fucking her brain in! _ raises the speed and joins Isa in feeding layla another 10" big black rubber dick. The Mistresses take turns turning the nob up, distracting Layla from taking strapon cock face fucking. The machine is taken away, yet Layla is kept in place. Isa and _ inspect their sex slave's pussy and asshole, pleased to see pretty pink. Their black rubber dicks bust her pink pussy wide open. Double penetration pushes her limits. She orgasms constantly. This curious girl, with her Mistresses training, is becoming a sex slave to keep around, following every order, taking every inch of cock, rough and deep. Layla's one problem is she didn't ask permission to cum, squirting all over herself. If she wants to cum, she'll cum over and over, one after another.
Nikki Bell, Isa Mendez
June 17, 2016
We all thought Mistress Isa Mendez let her sex slave Nikki Bell go after their last rope bondage training session. Nope! Isa kept Nikki tied sitting on the sybian fucking machine with a big ball gag muffing her mouth. Isa starts the session off with the sybian. Nikki can't move so she will endure every bit of vibration Isa gives her, teasing her with the control panel. Nikki begs to orgasms over and over, soaking the vibration pad. It makes Isa jealous. So she straps on her favorite dildo, makes Nikki spit on it and shoves it deep down her throat. Isa loves watching the spit spill out of Nikki's mouth, pleased to see Nikki going mad with all her orgasms. The lesbian domination doesn't end there. Isa ties Nikki on the mattress on her back, legs pulled back, vibrator tied in place to torment her clit. Isa takes her dildo and makes Nikki cum a few times with it, making her clean it with her mouth, deep down her throat, making Nikki gag up more spit. Isa does step over and sits on Nikki's face and enjoys the rimming Nikki does so well. She then continues the rough sex and spreads Nikki's legs and practically wrecks her hole, pounding in every inch. She fucks her rough, deep and hard, on the floor and sofa. She even pulls out a flogger and spanks some ass and tits. Nikki loves being used by her Mistress, cumming whenever Isa tells her to, backing up on the rubber dick. Isa leaves Nikki trembling. But she isn't done with her yet. She gives her sex slave a few sweet kisses, ramps up the vibrator and will probably return later on. Hopefully!
Mena Li, Ava Kelly, Brooklyn Daniels
June 10, 2016
Ava Kelly and Brooklyn Daniels are still training their current sex slave Mena Li. Mena is a prideful submissive slut wih an attitude that needs to learn her place. Dicks on sticks has turned many sluts out, leaving them sore and moaning in a puddle of their own juices. That's where Ava and Brooklyn start Mena off for her next lesbian domination threesome. This time around the hot and mean Mistresses chain Mena to the wall by her neck and wrists, posts nearby to lift and bind her feet on. She won't being going anywhere, having to balance on the beams while taking rubber cock in her holes deep. She begs to cum within minutes. Ava and Brooklyn seem to not hear her, ramming their dicks rough in her pussy and down her throat. It's hard to figure what Mena is saying with her Mistresses dildos sliding in and out of her mouth. They love to deep throat their dirty whores. Skull fuck, actually. They can see Mena struggling to focus on both sensations, Ava slapping her tits and smacking her face, driving Mena to orgasm a few more times. Brooklyn and Ava want to see how well Mena's pussy can endure a rough pussy pounding after cumming so much. The BDSM fun moves off the wall, onto the floor. The double penetration starts with their trusty and massive strapons. Both her holes are stuffed with the rubber dicks. Guess what else is still in the room: the dicks on a stick, which means more rubber cocks stuffing poor Mena. Mena actually yells at her Mistresses, questioning their lezdom taste in rough sex. After more dominaton and pounding her holes in, she apologizes over and over for being a slut that talks back. Good girl!
Kimber Woods, Brooklyn Daniels, Mena Li
June 3, 2016
The submissive and obedient sex slave Kimber Woods has been begging us to end up in the dungeon again. She seems addicted to lesbian domination, threesomes if possible. She loves being slapped and spanked, gagged and fucked roughly, deep and hard down her throat and pussy. We definitely have everything Kimber wants. Brooklyn Daniels and Mena Li heard about her desires and took it upon themselves to bring their kinky Latina hottie over. They place tight leather cuffs around her wrists and ankles, attach them to chains linked to the floor. They step back, revealing Kimber on her back, arms bound to her sides, legs kept spread eagle. Brooklyn and Mena slap her pussy, tits and face awake. They want her to cum a few times before they double penetrate her with their dicks on sticks. A vibrator usually does the trick. They lube her cunt and spread the wand all over her clit and pussy lips. Mena hovers over Kimber with her hung strapon and sticks it deep down her throat. She can't focus on cumming and giving Mena's big black rubber cock a proper deep throat blowjob. She keeps gagging up spit. Our hot BDSM Mistresses unchain Kimber, slap on some pantyhose, pull out the mattress and use chains to wrap her arms around herself like a straitjacket. Brooklyn lubes up her cock, rips the nylon and pushes the dildo deep inside Kimber's pussy. Kimber tries to get away but only ends up taking Mena's rubber cock further in her mouth. Kimber's hot body spread out doggy style, double penetration with huge strapon dildos, will make everyone cum in their pants. They flip her over and keep fucking her rough. They flip her over again and keep the rough sex going. Kimber can hardly move, slapped into the position they want her in. Seems this sex slave does need more training. They pull her off the mattress and take turns fucking her throat. Kimber keeps begging for more. What a good slut she is!
Alby Rydes, Mila Blaze, Isa Mendez
May 27, 2016
We haven't tried any cosplay in the dungeon with our beloved Strapon Squad. Thankfully we ran into naughty and oh so sexy schoolgirl Alby Rydes, who went straight to the strip club, skipping all her classes. Seems like a perfect thing that deserves a bondage punishment, a job for BDSM Mistresses Mila Blaze and Isa Mendez, a sub slut at heart. But she needs to get some lezdom fun out of her too. Alby Rydes is bound to a desk, dressed in her school uniform, potato sack over her head. She's shaken up and bent over Mila's knee for an old fashion hand spanking. Alby has to count off ten while Isa stuffs her mouth with her big black strapon dildo, one she knows well. Alby seems to be enjoying herself, counting each slap against her ass cheeks, slobbering on Isa's rubber cock. What a good sex slave! Her Mistresses throw her on the floor, face down and ass up for a pussy and asshole inspection done with a vibrator. Alby moans and screams, begging to cum instantly, especially with all the fingers wiggling in her pussy. She needs to feel their big black cocks before she can cum. Mila and Isa take turns pounding her hole in, each turn rougher than the last, making Alby scream in mercy. They pull her up off the floor and bend her over the desk for some double penetration fun, making her beg for their cocks, reciting what a horny slut she is. She's enjoying her dungeon classroom lesbian domination threesome. When they make her ride their rubber dicks, she does it with ease, making sure every inch fits in her pussy. She's then thrown on her back, dicks on a stick pulled out and stuffed deep in her holes, taking them deep down her throat and pussy. When they finally leave, she's left in her own tears, sweat and pussy juice, trying to stop from trembling.
Sheena Rose, Mila Blaze, Brooklyn Daniels
May 20, 2016
If you're caught up with one of our favorite sub sluts Sheena Rose, she came back for another go with our BDSM Mistresses, hoping for a challenge. Well, she's still in the dungeon, her rope bondage fun still in session. Mila Blaze has invited one of the best lezdom hotties we have here at Strapon Squad, Brooklyn Daniels. They want to fulfill their promise of offering an experience like no other. They've left Sheena's wrists tied to the wall, breasts tied, waist tied to a post behind her, leaving her standing and vulnerable. Her pussy is begging for a big cock to fill it up. She knows we have all sizes, yet don't control the massive thick rubber dildos attached to Brooklyn and Mila's strapons. The duo shake her up, push her around, test out the ropes keeping her place. They slap her tits, spank her, trying to make her fall. The lube comes out and shines up the rubber dicks for an easy slide in and out of Sheena. They take turns fucking her rough and hard, pounding every inch inside her, making her take it like a good sex slave. Their dicks on a stick reach Sheena's mouth and cunt perfectly, a fun double penetration amongst all the hole usage. Everything goes down her throat and pink slit deep, pulling out plenty of slobbery spit and vagina juice. Seems this lesbian domination threesome is wearing Sheena out. Will this be the day she's broken? Only one way to find out.
Sheena Rose, Mila Blaze, Alexa Rydell
May 13, 2016
The crazy, sexy and cool suicide girl model Sheena Rose is back in our dungeon for some more bondage and BDSM fun. This time around we'd like the Strapon Squad to take care of this sex slave training session. Hot lezdom Mistresses Mila Blaze and Alexa Rydell heard she liked to be bound tight with rope. They want to give our feisty Rose a rope bondage session to test her limits. She's been in the dungeon for awhile, tied to a wood flat up against the wall with a potato sack over her head. She seems a bit nervous. Mila and Alexa finally shake up their new sex slave, drag her to a post, tie her neck to it and keep her wrists behind her back. They love calling their sub sluts cunt, bitch, whore, spank her for being a dirty girl, making her beg and apologize for being a horny sex fiend. These vixens have something for Sheena: Huge 10" Black Strapon Dildos dangling between their legs for hardcore double penetration. Alexa shoves her big black rubber cock deep in Rose's mouth, fucking her throat, making her slob all over it. The spit allows Alexa to pile more of her rubber dick deeper in Sheena's throat. Spit is dripping down the post. The Mistresses have another surprise for their Rose: dicks on a stick. They sit her up on a crate against the wall and tie her legs bent and kept apart, her arms out of the way. Mila and Alexa have full access to her sweet pink pussy, her Pink Rose. With the same XXL dildos, the two mean girls pound her pussy in, fucking her rough, taking turns, one helping the other to fuck Sheena deeper. They make sure all her holes are stuffed with rubber cock, ramming everything they have in her, holding back no mercy. Sheena loves it. Her clit gets a bit of vibration torment, cumming more times she can handle. I'm sure this lesbian domination threesome will happen again. We'll make sure of it.
Latest StrapOnSquad.com Updates