Latest StrapOnSquad.com Updates
Isa Mendez, Abbi Roads, Lexy Villa, Brooklyn Daniels
July 6, 2022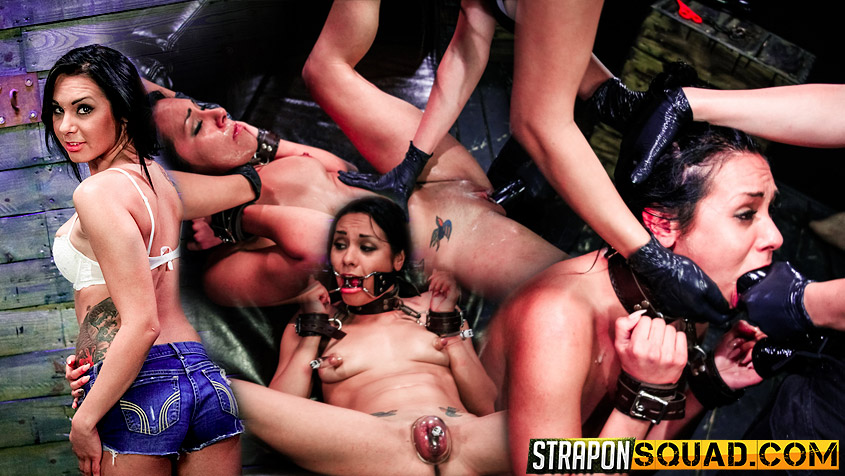 The submissive and obedient sex slave Isa Mendez has been begging us to end up in the dungeon again. She seems addicted to lesbian domination, threesomes if possible. She loves being slapped and spanked, gagged and fucked roughly, deep and hard down her throat and pussy. We definitely have everything Isa wants. Brooklyn Daniels and Lexy Villa heard about her desires and took it upon themselves to bring their kinky Latina hottie over. They place a tight leather collar around her neck, cuffs on her wrists, linking them to the collar. They brought out the sofa this time, sitting Isa on it, yet her legs chained apart. Brooklyn and Lexy come in and slap her pussy awake. They want her to cum a few times before they double penetrate her. A vibrator usually does the trick. They lube her cunt and spread the wand all over her clit and pussy lips. Lexy climbs up on the sofa and stuffs her hung strapon deep down Isa's throat. She can't focus on cumming and giving Lexy's big black rubber cock a proper deep throat blowjob. She keeps gagging up spit. Our hot BDSM Mistresses unchain Isa's ankles and flip her over, her arms, shoulders and head over the back of the couch. Lexy lubes up her cock and pushes it deep inside Isa's pussy. Isa tries to get away but only ends up taking Brooklyn's rubber cock in her mouth. Isa's hot body spread out doggy style, double penetration with huge strapon dildos, will make everyone cum in their pants. They flip her over and keep fucking her rough. They flip her over again and keep the rough sex going. Isa can hardly move, slapped into the position they want her in. Seems this sex slave does need more training. They pull her off the couch and takes turns fucking her throat. Isa keeps begging for more. What a good slut she is!
Isa Mendez, Abbi Roads, Lexy Villa, Brooklyn Daniels
June 22, 2022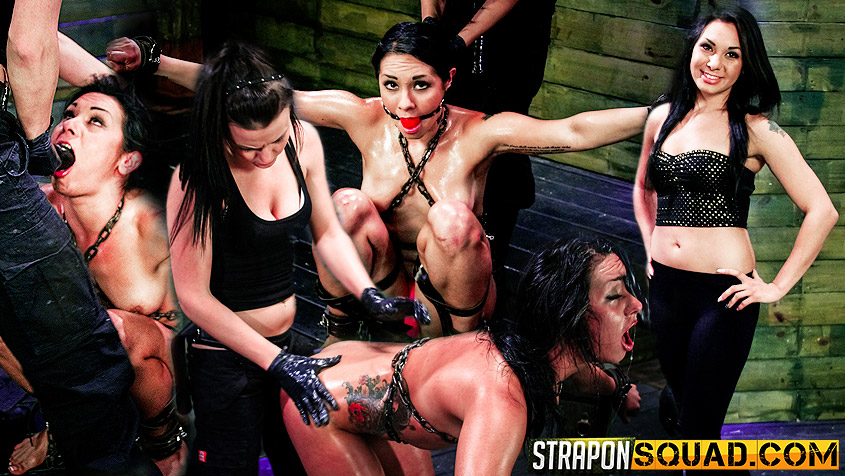 The crew here at Fetish Network have come across a promising submissive slut that loves bondage, BDSM and double penetration. The hot and mean Mistresses Lexy Villa and Brooklyn Daniels want to test her limits. We introduce the sexy and feisty Isa Mendez (formerly known as Abbi Roads). Brooklyn sits her on the sybian fucking machine, pulls her wrists behind her back and ties them to a post. Isa isn't going anywhere, her clit pressed against the flesh pad, fat rubber dick ready to spin against her g-spot. Brooklyn wants to make her orgasm no matter if she wants to. Of course Isa takes every inch of Brooklyn's massive strapon dildo deep down her throat. Brooklyn loves skull fucking slutty bitches. Isa's pussy gets teased with the changing speed and vibration from the sybian. Lexy joins the fun, changing up Isa's position for this lesbian domination threesome. She takes Isa off the fucking machine, shackles her wrist to a post each, keeping Isa bent over, ass and mouth ready for use. Brooklyn teases Isa's pussy with a vibrator and lube, shoving her rubber black dick deep inside Isa's cunt, pounding her in rough, making her take every inch. Lexy works on Isa's mouth, fucking her throat, making her gag up spit, rubbing it all over her face. The Mistresses switch places and keep taking turns, wearing Isa out, drenched in her own spit. They make her cum over and over, making her beg for it. Isa trembles and tenses up between Mistresses wrecking her holes, slapping her face and tits, spanking her ass till it turns bright red. Isa falls to her knees but is pulled up instantly and stuffed again, yelled at for being a useless whore. We're not sure when they actually stopped having sex with their new sex slave. From the looks of it, Isa doesn't mind one bit. She wants to please her Masters.
Aryah May, Brooklyn Daniels, Mila Blaze
June 22, 2022
Fetish Network presents an incredibly hot pain slut Brooklyn Daniels and Mila Blaze love very much. Ready to meet her? Aryah May is left in a corner of the dungeon, wrists and ankles cuffed and linked together, potato sack over her head. It seems she's a bit scared. Great! Brooklyn and Mila shake her up, bring her over to the leather couch, thrown on into the doggy position and the double penetration begins. Mila Blaze pulls Aryah towards her strapon dildo by her hair. Brooklyn approaches with a high speed vibrator, pressing it against May's pussy, pushing Aryah forward to take Mila's rubber dick deeper down her throat. A dick on the stick is pulled out and is pounded rough and rapid in her cunt. Her BDSM Mistresses slap and squeeze her breasts till they're red, spanking down hard on her ass. Her face gets the worst of it, only because she likes it. The harder they hit her, the easier Aryah takes their rubber strapon dicks in her holes. She begs for more, easily reciting it when told. They hold her arms and legs above her head, taking more rubber cock deeper in her pussy, cunt cream gushing out her swollen hole. Sounds perfect for the sybian fucking machine. They sit her on it and torment her twitching pussy, making her orgasm more and more. Brooklyn wants to make her squirt, smacking her to sit still, pressing her clit against the flesh pad. They can tell she's worn out, but they're not done yet. They tie her wrists to the wall with an extended chain, legs kept spread eagle back on the sofa. They keep working her pussy, shoving as many fingers will fit. They've gaped her, twat walls stretched out to the max. What a good pain slut!
Rose Red, Lexy Villa, Brooklyn Daniels
June 8, 2022
We're excited to share this video, another great clip with the lesbian domination threesome Rose Red, Lexy Villa and Brooklyn Daniels. This time around Rose Red's Mistresses want her to endure more constant orgasms. Why not start it off with the infamous sybian fucking machine. The vibration it gives has made many models squirt, especially in our BDSM scenarios. Lexy and Brooklyn give their eager sub slut more rope bondage, tying her tight to the sybian, wrists tied behind her back, tasty clit kept on the flesh pad. Brooklyn begins the torment with a light buzz, Lexy standing over Red, slapping her breasts and face with her 10" strapon. Brooklyn raises the dial, Lexy pulls Red's ball gag out and both Mistresses take turns sliding their rubber black dicks down Red's mouth, deep throating their whore rough and fast. The vibration is heightened, testing Rose's focus. It seems she needs to cum. She's a good slut. She asks her Mistresses permission first. She's denied. Vibration intensified, Lexy and Brooklyn push Red down onto the machine and shove their dicks in her mouth. Rose Red holds her nut until her Mistresses finally give her permission. Her pussy becomes sensitive. Perfect! Lexy and Brooklyn untie her off the sybian and pull her down hard onto a crate, tying her in place doggy style. The double penetrate her, one big black strapon in her mouth, the other pounding her pussy in. They flip her around and tease her clit more with a vibrator, making her beg to cum over and over, gagging her with more throat fucking, fingering and rough cunt sex. They've tied her legs bent, so she won't be running away. She's so exhausted from cumming so much. But her Mistresses aren't finished.
Brooklyn Daniels, Mila Blaze, Lexy Villa
June 8, 2022
Brooklyn Daniels is a great BDSM Mistress, a fan favorite for all of our lesbian domination threesomes. Yet, she's tied up in the dungeon, her long skirt still on. Seems like she's in trouble with our other Mistresses. Who says a Dominant can be turned into a sex slave for slut training? At Fetish Network, fuck the rules. Brooklyn needs to learn her lesson. Mila Blaze and Lexy Villa enter and shake her up. They spin her into the doggy position and tear open her panties, revealing her sweet pussy and tight asshole. Everyone now gets to see what's underneath her uniform. They shove a few fingers inside her and fiddle with her g-spot. They want to see her squirt since she makes other sex slaves shoot pussy juice all over themselves. Lexy loves to water board her whores with a big jug of water, drenching Brooklyn throughout. Now Daniels will know how it feels to be deep throat-ed and fucked deep and rough with big black strapon dildos. Mila and Lexy give it to her the way she gives it to others. Mila shoves her rubber dick down Brooklyn's pussy as Lexy taunts and splashes water on the face, skull fucking her in between. They want to bind her in a bent over position, shackling her wrists to posts. Perfect! They can double penetrate her better. There's so much water and spit dripping from Brooklyn's face. She's slapped and spanked, zapped with an electro wand, taking more rubber cock in her mouth and pussy. The dicks on a stick are pulled out and ready for action, stuffing Daniels more. We're not sure she was prepared for this caliber of hardcore bondage sex. They leave her apologizing for being a dirty slut.
Isa Mendez, Mila Blaze, Lexy Villa
May 25, 2022
Guess whose back for more lesbian domination and bondage. Our favorite kinky BDSM slut Isa Mendez. She keeps insisting on another return session, hoping for a challenge. Mila Blaze and Lexy Villa, two hot and controlling Mistresses equipped with massive strapon dildos, have a rope bondage scene in mind. They tie her wrists to a post, on her shoulder blades, legs and feet hanging over her head. Her pussy is high up enough for easy access. Lexy bows down to Isa's face and chokes her bit while Mila fingers her pussy, warming it up for some wreckage and stretching. Mila pulls out her dick on a stick and rams it down Isa's pussy, pulling and pushing it in and out fast and rough. Isa tries to catch her breath but Lexy won't let her. Mila steps over Isa and fucks her with her big black rubber dick, pounding her deep and hard. Isa takes every inch. The two Mistresses untie her, stand her up and bend her over the post. They're horny for double penetration, stuffing her holes, making her cum a few times and gag up a stream of spit. Now for the real challenge Isa asked for: an upside down wall rope suspension. Isa hangs on the wall from her waist, wrists and ankles. There's something else hanging on the wall, pointed right at Isa's pussy: a high speed fucking machine. It drills into her as Mila and Lexy take turns stuffing Isa's mouth with their strapons and dicks on a stick. Isa begs to cum every few seconds, so turned on from everything. She evens gets another flogging. What a good submissive sex slave!
Rose Red, Lexy Villa, Brooklyn Daniels
May 25, 2022
The hot girl next door into kink is quite rare to find. We're truly blessed to know one quite well. Rose Red, one hot and amazing woman with too many fetishes and desires to count, is no stranger to Fetish Network. Guess who happened to fall in like with Rose Red. Well, two for this one lovely lady: Lexy Villa and Brooklyn Daniels. They heard she liked to be bound tight with rope. These sexy, feisty and shockingly mean Mistresses wanted to give our favorite Red Rose a rope bondage session to test her limits. She's been in the dungeon for awhile, tied up to stay sat on her mat with a potato sack over her head. She seems a bit nervous. Lexy and Brooklyn finally shake up their new sex slave, drag her to a post, tie her neck and wrists tight through steel hooks and taunt her a bit. They love calling their sub sluts cunt, bitch, whore, spank her for being a dirty girl. These BDSM vixens have something for Rose Red: Huge 10" Black Strapon Dildos dangling between their legs. Lexy shoves her big black rubber cock deep in Red's mouth, fucking her throat, making her slob all over it. The spit allows Brooklyn to pile in her rubber dick deeper in Red's throat. Spit is dripping down the post. The Mistresses have another surprise for their Red Rose: a wall rope suspension. Rope is wrapped around her hips, knees, ankles and wrists, legs spread apart, feet off the floor. What happens next is one of the hottest moments on Fetish Network. Lexy and Brooklyn have full access to her sweet pink pussy, her Pink Rose. With the same XXL dildos, the two mean girls pound her pussy in, fucking her rough, taking turns, one helping the other to fuck Red deeper. They use the rope to pull her forward onto their black dicks. Red loves it. She swings herself, ball gag in her mouth the entire time, hands gripping her neck. Her clit gets a bit of vibration torment, cumming more times she can handle. I'm sure this threesome will happen again. We'll make sure of it.
Alessa Snow, Kimber Woods, Isa Mendez
May 11, 2022
Mean and sultry BDSM Mistresses Isa Mendez and Kimber Woods have brought back kinky hot nerd Alessa Snow. She was such a obedient and strong sex slave, gladly taking everything she was given. Isa and Kimber want more. That's all it takes around here for a lesbian domination threesome. Alessa Snow ends up on the couch, frozen in bondage, hands tied back behind her, legs kept open for the fucking machine Isa and Kimber brought for their slut. They attached a thick long dildo to open her up. Kimber enters the dungeon and flips on the machine while Isa introduces Alessa to her big black strapon dildo again. Well, more like deep down her throat. Fucking her brain in! Isa raises the speed and joins Kimber in feeding Alessa another 10" big black rubber dick. The Mistresses take turns turning the nob up, distracting Alessa from taking strapon cock face fucking. The machine is taken away, Alessa is bent over and ass up. Isa and Kimber inspect their sex slave's pussy and asshole, pleased to see pretty pink. Their black rubber dicks bust her pink pussy wide open. Double penetration pushes her limits. She orgasms constantly. This curious girl, with her Mistresses training, is becoming a sex slave to keep around, following every order, taking every inch of cock, rough and deep. Alessa's one problem is she didn't ask permission to cum. Time to ride Isa's fat sex toy. If she wants to cum, she'll cum over and over, one after another.
Marina Angel, Riley Ray
May 11, 2022
We all thought Mistress Riley Ray let her sex kitten Marina Angel go after their last session. We were wrong. Riley kept Marina in a dog cage, wrists chained to the cage, sitting on a sybian fucking machine with a huge dildo pushed through the rails to act as her water dispenser. Is everyone ready for some pet play? Riley starts the session off with the sybian. Marina can't move so she will endure every bit of vibration Riley gives her, teasing her with the control panel. Marina begs to orgasms over and over, soaking the vibration pad. It makes Riley jealous. So she pulls out her favorite dildo, props her leg over the cage, pushes aside her panties and jack hammers her pussy. That makes Mistress Riley Ray squirt all over her hot and kinky pet who laps it all up. The lesbian domination doesn't end there. Riley opens the cage door and leads Marina out, running her hands all over, spanking her ass and tits, leaving hand prints all over. Riley takes the same dildo she used on herself and makes Marina cum a few times with it, making Marina clean it with her mouth, deep down her throat, making Marina gag up more spit. Riley is ready to fuck. She even pumps up Marina's pussy. She slips on her enormous 10" strapon, spreads Marina's legs and practically wrecks Marina's hole, pounding in every inch. She fucks her rough, deep and hard, on the floor and on top of the cage. Marina loves being used by her Mistress, cumming whenever Riley tells her to, backing up on the rubber dick. Riley leaves Marina trembling. But Riley isn't done with her yet. She pushed Marina back in the cage for more fun later on.
Marina Angel, Riley Ray
April 27, 2022
Our BDSM dungeon has been busier than ever. Some of the hottest lesbian Mistresses bring their sex slaves over for some lezdom fun, like the sexy yet mean Riley Ray. She brought us all a treat when she left Marina Angel, one hot and kinky barely legal vixen, bound on the floor. Her wrists were linked to her leather collar and had a tight chain around her hips. Mistress Riley walks in after leaving her sex kitten unattended for awhile. Riley comes off sweet, yet slaps Marina's pretty face to prove she's not all cookies and cream, dropping loads of spit into Marina's mouth and onto her face. She introduces Marina to her long and fat strapon dildo, making Marina worship it between cock slaps. Marina is a good girl and treats Riley's massive rubber dick the way she instructs. Marina takes it deep down her throat, practically skull fucked versus giving a blowjob. Riley loves watching her strapon disappear in Marina's mouth. We all want to see it open her pussy up. Riley takes care of it. She gets Marina on the couch and teases her pussy with a high speed vibrator, making Marina flinch and beg to cum. You know the rule around here. All subs need to ask for permission to orgasm. She spanks her as well, enough to leave a few hand prints. Riley also makes Marina eat out her asshole, teaching her how to properly rim a worthy Mistress like herself. Now for some deep rough fucking. Riley lubes Marina's pussy up, slaps on her big gag ball over Marina's mouth and sinks every inch of her strapon deep inside Marina's pussy. Once Riley starts, she can't stop. She pounds Marina's pussy in deep, balls to clit, doggy and missionary, using the chain around Marina's waist to pull her back hard and fast. This is lesbian domination and bondage at it's finest.
Latest StrapOnSquad.com Updates