Latest StrapOnSquad.com Updates
Brooklyn Daniels, Mila Blaze, Lexy Villa
June 8, 2022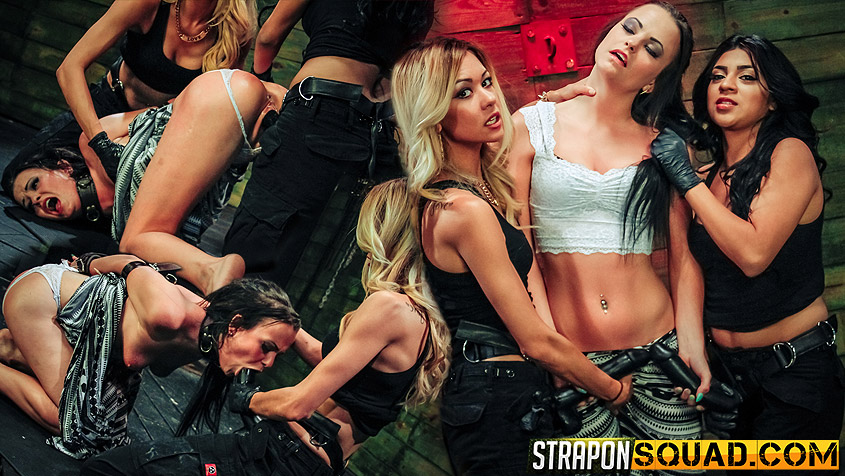 Brooklyn Daniels is a great BDSM Mistress, a fan favorite for all of our lesbian domination threesomes. Yet, she's tied up in the dungeon, her long skirt still on. Seems like she's in trouble with our other Mistresses. Who says a Dominant can be turned into a sex slave for slut training? At Fetish Network, fuck the rules. Brooklyn needs to learn her lesson. Mila Blaze and Lexy Villa enter and shake her up. They spin her into the doggy position and tear open her panties, revealing her sweet pussy and tight asshole. Everyone now gets to see what's underneath her uniform. They shove a few fingers inside her and fiddle with her g-spot. They want to see her squirt since she makes other sex slaves shoot pussy juice all over themselves. Lexy loves to water board her whores with a big jug of water, drenching Brooklyn throughout. Now Daniels will know how it feels to be deep throat-ed and fucked deep and rough with big black strapon dildos. Mila and Lexy give it to her the way she gives it to others. Mila shoves her rubber dick down Brooklyn's pussy as Lexy taunts and splashes water on the face, skull fucking her in between. They want to bind her in a bent over position, shackling her wrists to posts. Perfect! They can double penetrate her better. There's so much water and spit dripping from Brooklyn's face. She's slapped and spanked, zapped with an electro wand, taking more rubber cock in her mouth and pussy. The dicks on a stick are pulled out and ready for action, stuffing Daniels more. We're not sure she was prepared for this caliber of hardcore bondage sex. They leave her apologizing for being a dirty slut.
Isa Mendez, Mila Blaze, Lexy Villa
May 25, 2022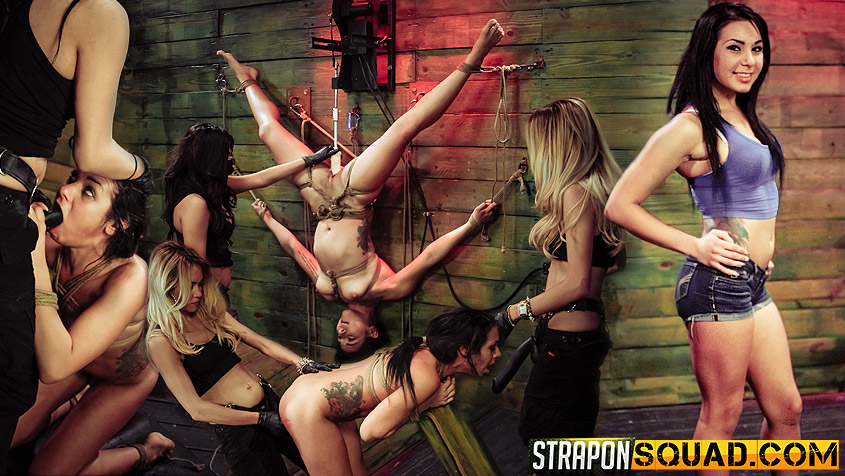 Guess whose back for more lesbian domination and bondage. Our favorite kinky BDSM slut Isa Mendez. She keeps insisting on another return session, hoping for a challenge. Mila Blaze and Lexy Villa, two hot and controlling Mistresses equipped with massive strapon dildos, have a rope bondage scene in mind. They tie her wrists to a post, on her shoulder blades, legs and feet hanging over her head. Her pussy is high up enough for easy access. Lexy bows down to Isa's face and chokes her bit while Mila fingers her pussy, warming it up for some wreckage and stretching. Mila pulls out her dick on a stick and rams it down Isa's pussy, pulling and pushing it in and out fast and rough. Isa tries to catch her breath but Lexy won't let her. Mila steps over Isa and fucks her with her big black rubber dick, pounding her deep and hard. Isa takes every inch. The two Mistresses untie her, stand her up and bend her over the post. They're horny for double penetration, stuffing her holes, making her cum a few times and gag up a stream of spit. Now for the real challenge Isa asked for: an upside down wall rope suspension. Isa hangs on the wall from her waist, wrists and ankles. There's something else hanging on the wall, pointed right at Isa's pussy: a high speed fucking machine. It drills into her as Mila and Lexy take turns stuffing Isa's mouth with their strapons and dicks on a stick. Isa begs to cum every few seconds, so turned on from everything. She evens gets another flogging. What a good submissive sex slave!
Rose Red, Lexy Villa, Brooklyn Daniels
May 25, 2022
The hot girl next door into kink is quite rare to find. We're truly blessed to know one quite well. Rose Red, one hot and amazing woman with too many fetishes and desires to count, is no stranger to Fetish Network. Guess who happened to fall in like with Rose Red. Well, two for this one lovely lady: Lexy Villa and Brooklyn Daniels. They heard she liked to be bound tight with rope. These sexy, feisty and shockingly mean Mistresses wanted to give our favorite Red Rose a rope bondage session to test her limits. She's been in the dungeon for awhile, tied up to stay sat on her mat with a potato sack over her head. She seems a bit nervous. Lexy and Brooklyn finally shake up their new sex slave, drag her to a post, tie her neck and wrists tight through steel hooks and taunt her a bit. They love calling their sub sluts cunt, bitch, whore, spank her for being a dirty girl. These BDSM vixens have something for Rose Red: Huge 10" Black Strapon Dildos dangling between their legs. Lexy shoves her big black rubber cock deep in Red's mouth, fucking her throat, making her slob all over it. The spit allows Brooklyn to pile in her rubber dick deeper in Red's throat. Spit is dripping down the post. The Mistresses have another surprise for their Red Rose: a wall rope suspension. Rope is wrapped around her hips, knees, ankles and wrists, legs spread apart, feet off the floor. What happens next is one of the hottest moments on Fetish Network. Lexy and Brooklyn have full access to her sweet pink pussy, her Pink Rose. With the same XXL dildos, the two mean girls pound her pussy in, fucking her rough, taking turns, one helping the other to fuck Red deeper. They use the rope to pull her forward onto their black dicks. Red loves it. She swings herself, ball gag in her mouth the entire time, hands gripping her neck. Her clit gets a bit of vibration torment, cumming more times she can handle. I'm sure this threesome will happen again. We'll make sure of it.
Alessa Snow, Kimber Woods, Isa Mendez
May 11, 2022
Mean and sultry BDSM Mistresses Isa Mendez and Kimber Woods have brought back kinky hot nerd Alessa Snow. She was such a obedient and strong sex slave, gladly taking everything she was given. Isa and Kimber want more. That's all it takes around here for a lesbian domination threesome. Alessa Snow ends up on the couch, frozen in bondage, hands tied back behind her, legs kept open for the fucking machine Isa and Kimber brought for their slut. They attached a thick long dildo to open her up. Kimber enters the dungeon and flips on the machine while Isa introduces Alessa to her big black strapon dildo again. Well, more like deep down her throat. Fucking her brain in! Isa raises the speed and joins Kimber in feeding Alessa another 10" big black rubber dick. The Mistresses take turns turning the nob up, distracting Alessa from taking strapon cock face fucking. The machine is taken away, Alessa is bent over and ass up. Isa and Kimber inspect their sex slave's pussy and asshole, pleased to see pretty pink. Their black rubber dicks bust her pink pussy wide open. Double penetration pushes her limits. She orgasms constantly. This curious girl, with her Mistresses training, is becoming a sex slave to keep around, following every order, taking every inch of cock, rough and deep. Alessa's one problem is she didn't ask permission to cum. Time to ride Isa's fat sex toy. If she wants to cum, she'll cum over and over, one after another.
Marina Angel, Riley Ray
May 11, 2022
We all thought Mistress Riley Ray let her sex kitten Marina Angel go after their last session. We were wrong. Riley kept Marina in a dog cage, wrists chained to the cage, sitting on a sybian fucking machine with a huge dildo pushed through the rails to act as her water dispenser. Is everyone ready for some pet play? Riley starts the session off with the sybian. Marina can't move so she will endure every bit of vibration Riley gives her, teasing her with the control panel. Marina begs to orgasms over and over, soaking the vibration pad. It makes Riley jealous. So she pulls out her favorite dildo, props her leg over the cage, pushes aside her panties and jack hammers her pussy. That makes Mistress Riley Ray squirt all over her hot and kinky pet who laps it all up. The lesbian domination doesn't end there. Riley opens the cage door and leads Marina out, running her hands all over, spanking her ass and tits, leaving hand prints all over. Riley takes the same dildo she used on herself and makes Marina cum a few times with it, making Marina clean it with her mouth, deep down her throat, making Marina gag up more spit. Riley is ready to fuck. She even pumps up Marina's pussy. She slips on her enormous 10" strapon, spreads Marina's legs and practically wrecks Marina's hole, pounding in every inch. She fucks her rough, deep and hard, on the floor and on top of the cage. Marina loves being used by her Mistress, cumming whenever Riley tells her to, backing up on the rubber dick. Riley leaves Marina trembling. But Riley isn't done with her yet. She pushed Marina back in the cage for more fun later on.
Marina Angel, Riley Ray
April 27, 2022
Our BDSM dungeon has been busier than ever. Some of the hottest lesbian Mistresses bring their sex slaves over for some lezdom fun, like the sexy yet mean Riley Ray. She brought us all a treat when she left Marina Angel, one hot and kinky barely legal vixen, bound on the floor. Her wrists were linked to her leather collar and had a tight chain around her hips. Mistress Riley walks in after leaving her sex kitten unattended for awhile. Riley comes off sweet, yet slaps Marina's pretty face to prove she's not all cookies and cream, dropping loads of spit into Marina's mouth and onto her face. She introduces Marina to her long and fat strapon dildo, making Marina worship it between cock slaps. Marina is a good girl and treats Riley's massive rubber dick the way she instructs. Marina takes it deep down her throat, practically skull fucked versus giving a blowjob. Riley loves watching her strapon disappear in Marina's mouth. We all want to see it open her pussy up. Riley takes care of it. She gets Marina on the couch and teases her pussy with a high speed vibrator, making Marina flinch and beg to cum. You know the rule around here. All subs need to ask for permission to orgasm. She spanks her as well, enough to leave a few hand prints. Riley also makes Marina eat out her asshole, teaching her how to properly rim a worthy Mistress like herself. Now for some deep rough fucking. Riley lubes Marina's pussy up, slaps on her big gag ball over Marina's mouth and sinks every inch of her strapon deep inside Marina's pussy. Once Riley starts, she can't stop. She pounds Marina's pussy in deep, balls to clit, doggy and missionary, using the chain around Marina's waist to pull her back hard and fast. This is lesbian domination and bondage at it's finest.
Isa Mendez, Mila Blaze, Ava Kelly
April 27, 2022
Isa Mendez, one our favorite Strapon Squad sex slaves, is no stranger to the Fetish Network dungeon. She's been used, wrecked, tormented, fucked a few times, our inventory of sex toys and goodies all used on her. Every time she returns, we need to challenge her and intensify her training sessions. Let's see if Isa can endure another lesbian domination threesome. Mila Blaze knows Isa well, gaping her pussy on a few occasions during hardcore bondage scenes. She's brought along newbie Ava Kelly (one hungry deep throat cock sucker). They turn her into a kinky pet, an anal hook leash connected to her collar, fit snug into asshole. It's time for some BDSM fun. They push her onto the bed and spread her legs apart. They wake it up with a vibrator, making her moan and flinch. She begs to cum but is denied. Let's see how well she can hold her nut with Ava's huge strapon dildo up her cunt and her anal hook dangling around. Mila loves rough sex, pulling Isa onto her rubber black cock deep and hard. Ava shoves her strapon deep down Isa's throat, making her gag and scream for mercy. They make her apologize for being a dirty slut, continuing the double penetration, slapping her tits and spanking her ass. Her ass is almost as red as her lips tattoo. They pull her around on the bed, flip her back and forth on her back and stomach, legs pulled down by her head. The Mistresses enjoy wrecking her holes. They even brought a dick on a stick, a dildo attached to a handle for jack hammer pussy stretching. Isa is such a great sex slave, giving her Masters whatever they want, enjoying every minute of it.
Becca Diamond, Brooklyn Daniels, Mila Blaze
September 14, 2021
Fetish Network loves Becca Diamond! This hot muscle MILF has given us great hardcore BDSM and rope bondage content. We do think she's met her match: sexy, cool yet mean Mistresses Brooklyn Daniels and Mila Blaze. The last time we saw this lesbian domination threesome, Becca Diamond was left tied to horizontal posts after a brutal double penetration sex slave training session. There was plenty of slobber, tit slapping, hair pulling and spanking. Of course the duo also had their big black strapon dildos with them. Guess what. Becca Diamond is still here. They never let her go. She's been tied to a crate with more rope, clit pump sealed on. We love making her fat clit bigger and too sensitive to touch. It's too bad her Mistresses want to do more than just touch. Our Diamond needs more training. Polish, some might say. That's what she does for the big black rubber dicks stuffed deep down her throat, down to her lungs, fucked rough past her tingling clit into her pussy. Mila and Brooklyn hold nothing back for the muscle Queen. They untie and flip her around. Becca wants to fight back, but she's so tired and weak. The orgasms keep her in place for her Mistresses use and desires. Becca even answers to slut, whore and dirty bitch, reciting it when told. She's so obedient. No reason the dicks on a stick shouldn't join the fun. The duo pull Diamond onto the mattress, rope binding her wrists and breasts. Mila and Brooklyn have fun pushing Becca around, one holding her legs spread eagle so the other can pound a dildo, whether it be a strapon or on a stick, black or white, four fingers and more, she takes it all. This cougar sub slut can hardly move, enduring everything to please her Masters.
Mena Li, Lexy Villa, Mila Blaze
August 31, 2021
Lexy Villa and Mila Blaze are still training their current sex slave Mena Li. Mena is a feisty and prideful submissive slut that needs to learn her place. The sybian fucking machine has turned many sluts out, leaving them in a puddle of what squirts out of their cunts. That's where Lexy and Mila start Mena off for her next lesbian domination threesome. This time around the hot and mean Mistresses enact a rope bondage session, tying Mena down onto the sybian. She won't being going anywhere. Lexy and Mila enter, turning the sybian on instantly. Mena Li doesn't necessarily like the sex toy. Maybe that's why Mila keeps lowering and raising the machine, tormenting Mena's little clit. She begs to cum within minutes. Lexy and Mila seem to not hear her. It's hard to figure what Mena is saying with her Mistresses big black strapon dildos sliding in and out of her mouth. They love to deep throat their dirty whores. Skull fuck, actually. They can see Mena struggling to focus on both sensations, Mila pushing her down more on the sybian, driving Mena to orgasm a few more times. Mila and Lexy want to see how well Mena's pussy can endure a rough pussy pounding after cumming so much. The BDSM fun moves off the sybian, onto a crate. The double penetration starts. Both her holes are stuffed with the rubber dicks. Guess what else is back: the dicks on a stick, which means more rubber cocks stuffing poor Mena. They start on her stomach, then flip her on her back, flog her back and breasts a bit. Mena definitely learns a thing or two more from this scene. She apologizes over and over for being a slut. Good girl!
Jynx Hollywood, Mena Li, Lexy Villa
August 17, 2021
Mean and sultry BDSM Mistresses Mena Li and Lexy Villa spotted rocker suicide exotic dancer Jynx Hollywood the other day. That's all it takes around here for a lesbian domination threesome. Jynx Hollywood ends up on top of the sybian fucking machine, chained down by her collared neck and cuffed wrists. Lexy enters the dungeon and flips on the sybian while Mena introduces Jynx to her big black strapon dildo. Well, more like her throat. Deep down her throat. Fucking her throat, actually. Lexy raises the vibration and joins Mena in feeding Jynx another 10" big black rubber dick. The Mistresses take turns intensifying the vibration, distracting Jynx from taking strapon cock face fucking. Mena hates the dress Jynx is wearing and rips it off of her, revealing bouncy porcelain perky nipples. The Mistresses want to see if her pussy matches. Jynx's ass is lifted off the sybian. Since her neck is chained in place, Jynx is kept bent over and ass up. Mena and Lexy inspect their sex slave's pussy and asshole, pleased to see pretty pink. Their black rubber dicks will look great against her pink pussy. Double penetration is the perfect test. This first timer, with her Mistresses training, blossoms into an obedient sex slave, following every order, taking every inch of cock, rough and deep. Jynx's one problem is she didn't ask permission to cum. Time for more sybian torment, vibration kicked up, Mena pushing Jynx down onto the trembling flesh pad. Jynx grasps onto her chains begging to cum desperately. Should she? Watch to find out.
Latest StrapOnSquad.com Updates