Latest StrapOnSquad.com Updates
Isa Mendez, Mila Blaze, Ava Kelly
May 29, 2015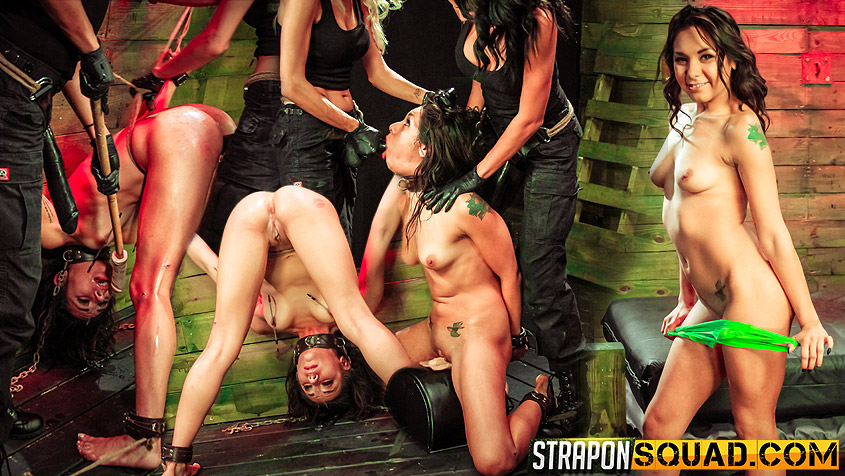 If you're caught up with one of our favorite sub sluts Isa Mendez, she came back for another go with our BDSM Mistresses, hoping for a challenge. Well, she's still in the dungeon, her bondage fun still in session. Ava Kelly and Mila Blaze want to fulfill their promise of offering an experience like no other. They've left her tied against the wall, bent over, wrists and hips attached to the wall. It's a bit reminiscent of her past rope suspension. Her pussy is begging for a big cock to fill it up. She knows we have all sizes, yet don't control the massive thick rubber dildos attached to Ava and Mila's strapons. They take turns fucking her rough and hard, pounding every inch inside her, making her take it like a good sex slave. Their dicks on a stick reach Isa's mouth perfectly, a fun double penetration between all the hole usage. They want to see how well Isa's trembling and orgasm sensitive pussy can handle the sybian fucking machine. This naughty sex toy has broken many sex slave down in seconds, staring down at the floor covered in pussy juice from squirting. Mila torments Isa with an up and down ride of vibration and twirling dildo. Her screams are muffled from being skull fucked and smacked around. Isa thinks her lesbian domination threesome is over. How wrong she is. She wanted a challenge. Her Mistresses pull her off the sybian and tie her to a crate, bent over to make an easy pig roast. The duo take turns and switch around Isa, pounding their cocks in, fingering her, tormenting her more with a vibrator, more tit slapping and spanking. Isa can hardly move from all the orgasms. Hopefully we'll see her around again. This session truly tested her limits.
Sheena Rose, Mila Blaze, Alexa Rydell
May 22, 2015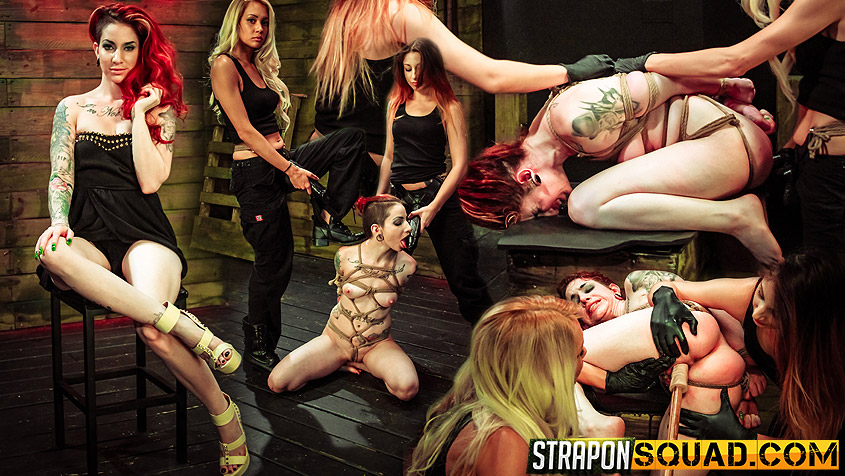 The last time we saw the trio Sheena Rose, Alexa Rydell and Mila Blaze, they just finished a lesbian domination threesome. Well, Sheena Rose hasn't left yet. She's still tied up in the dungeon, to the wall, only one leg touching the floor. We all know what's coming, possibly making Sheena have to hang, which sort of makes this scene a rope suspension. Yes, the rope bondage continues. Both Mistresses want to stuff her with more rubber cock. They aim their dicks at Sheena's pussy and pound in their dicks on a stick, making her take it raw and rough, shoving another down her throat, making her gag and cum over and over, our new type of double penetration. Like we guessed, she can't keep her other leg stiff on the floor from all the use, rubber cock propelled deeper into her holes. She's becoming a good little sub bondage sex slave, begging for more dick and apologizing for slutty deeds. Wondering if she's learned enough for a release? No! Mila and Alexa want to see how well Sheena's pussy can endure more rough pussy pounding after cumming so much. The BDSM fun moves off the wall, onto a crate. The double penetration continues. Both her holes are stuffed with the rubber dicks. The dicks on a stick are still in action, which means more rubber cocks stuffing poor Sheena. They start on her stomach, then flip her on her back, flog her back and breasts a bit. Sheena definitely learns a thing or two more from this scene. She apologizes over and over for being a slut. Good girl!
Aryah May, Brooklyn Daniels, Mila Blaze
May 15, 2015
Fetish Network presents an incredibly hot pain slut Brooklyn Daniels and Mila Blaze love very much. Ready to meet her? Aryah May is left in a corner of the dungeon, wrists and ankles cuffed and linked together, potato sack over her head. It seems she's a bit scared. Great! Brooklyn and Mila shake her up, bring her over to the leather couch, thrown on into the doggy position and the double penetration begins. Mila Blaze pulls Aryah towards her strapon dildo by her hair. Brooklyn approaches with a high speed vibrator, pressing it against May's pussy, pushing Aryah forward to take Mila's rubber dick deeper down her throat. A dick on the stick is pulled out and is pounded rough and rapid in her cunt. Her BDSM Mistresses slap and squeeze her breasts till they're red, spanking down hard on her ass. Her face gets the worst of it, only because she likes it. The harder they hit her, the easier Aryah takes their rubber strapon dicks in her holes. She begs for more, easily reciting it when told. They hold her arms and legs above her head, taking more rubber cock deeper in her pussy, cunt cream gushing out her swollen hole. Sounds perfect for the sybian fucking machine. They sit her on it and torment her twitching pussy, making her orgasm more and more. Brooklyn wants to make her squirt, smacking her to sit still, pressing her clit against the flesh pad. They can tell she's worn out, but they're not done yet. They tie her wrists to the wall with an extended chain, legs kept spread eagle back on the sofa. They keep working her pussy, shoving as many fingers will fit. They've gaped her, twat walls stretched out to the max. What a good pain slut!
Brooklyn Daniels, Mila Blaze, Lexy Villa
May 8, 2015
Brooklyn Daniels is a great BDSM Mistress, a fan favorite for all of our lesbian domination threesomes. Yet, she's tied up in the dungeon, her long skirt still on. Seems like she's in trouble with our other Mistresses. Who says a Dominant can be turned into a sex slave for slut training? At Fetish Network, fuck the rules. Brooklyn needs to learn her lesson. Mila Blaze and Lexy Villa enter and shake her up. They spin her into the doggy position and tear open her panties, revealing her sweet pussy and tight asshole. Everyone now gets to see what's underneath her uniform. They shove a few fingers inside her and fiddle with her g-spot. They want to see her squirt since she makes other sex slaves shoot pussy juice all over themselves. Lexy loves to water board her whores with a big jug of water, drenching Brooklyn throughout. Now Daniels will know how it feels to be deep throat-ed and fucked deep and rough with big black strapon dildos. Mila and Lexy give it to her the way she gives it to others. Mila shoves her rubber dick down Brooklyn's pussy as Lexy taunts and splashes water on the face, skull fucking her in between. They want to bind her in a bent over position, shackling her wrists to posts. Perfect! They can double penetrate her better. There's so much water and spit dripping from Brooklyn's face. She's slapped and spanked, zapped with an electro wand, taking more rubber cock in her mouth and pussy. The dicks on a stick are pulled out and ready for action, stuffing Daniels more. We're not sure she was prepared for this caliber of hardcore bondage sex. They leave her apologizing for being a dirty slut.
Isa Mendez, Mila Blaze, Lexy Villa
May 1, 2015
Guess whose back for more lesbian domination and bondage. Our favorite kinky BDSM slut Isa Mendez. She keeps insisting on another return session, hoping for a challenge. Mila Blaze and Lexy Villa, two hot and controlling Mistresses equipped with massive strapon dildos, have a rope bondage scene in mind. They tie her wrists to a post, on her shoulder blades, legs and feet hanging over her head. Her pussy is high up enough for easy access. Lexy bows down to Isa's face and chokes her bit while Mila fingers her pussy, warming it up for some wreckage and stretching. Mila pulls out her dick on a stick and rams it down Isa's pussy, pulling and pushing it in and out fast and rough. Isa tries to catch her breath but Lexy won't let her. Mila steps over Isa and fucks her with her big black rubber dick, pounding her deep and hard. Isa takes every inch. The two Mistresses untie her, stand her up and bend her over the post. They're horny for double penetration, stuffing her holes, making her cum a few times and gag up a stream of spit. Now for the real challenge Isa asked for: an upside down wall rope suspension. Isa hangs on the wall from her waist, wrists and ankles. There's something else hanging on the wall, pointed right at Isa's pussy: a high speed fucking machine. It drills into her as Mila and Lexy take turns stuffing Isa's mouth with their strapons and dicks on a stick. Isa begs to cum every few seconds, so turned on from everything. She evens gets another flogging. What a good submissive sex slave!
Alessa Snow, Kimber Woods, Isa Mendez
April 24, 2015
Mean and sultry BDSM Mistresses Isa Mendez and Kimber Woods have brought back kinky hot nerd Alessa Snow. She was such a obedient and strong sex slave, gladly taking everything she was given. Isa and Kimber want more. That's all it takes around here for a lesbian domination threesome. Alessa Snow ends up on the couch, frozen in bondage, hands tied back behind her, legs kept open for the fucking machine Isa and Kimber brought for their slut. They attached a thick long dildo to open her up. Kimber enters the dungeon and flips on the machine while Isa introduces Alessa to her big black strapon dildo again. Well, more like deep down her throat. Fucking her brain in! Isa raises the speed and joins Kimber in feeding Alessa another 10" big black rubber dick. The Mistresses take turns turning the nob up, distracting Alessa from taking strapon cock face fucking. The machine is taken away, Alessa is bent over and ass up. Isa and Kimber inspect their sex slave's pussy and asshole, pleased to see pretty pink. Their black rubber dicks bust her pink pussy wide open. Double penetration pushes her limits. She orgasms constantly. This curious girl, with her Mistresses training, is becoming a sex slave to keep around, following every order, taking every inch of cock, rough and deep. Alessa's one problem is she didn't ask permission to cum. Time to ride Isa's fat sex toy. If she wants to cum, she'll cum over and over, one after another.
Isa Mendez, Mila Blaze, Ava Kelly
April 17, 2015
Isa Mendez, one our favorite Strapon Squad sex slaves, is no stranger to the Fetish Network dungeon. She's been used, wrecked, tormented, fucked a few times, our inventory of sex toys and goodies all used on her. Every time she returns, we need to challenge her and intensify her training sessions. Let's see if Isa can endure another lesbian domination threesome. Mila Blaze knows Isa well, gaping her pussy on a few occasions during hardcore bondage scenes. She's brought along newbie Ava Kelly (one hungry deep throat cock sucker). They turn her into a kinky pet, an anal hook leash connected to her collar, fit snug into asshole. It's time for some BDSM fun. They push her onto the bed and spread her legs apart. They wake it up with a vibrator, making her moan and flinch. She begs to cum but is denied. Let's see how well she can hold her nut with Ava's huge strapon dildo up her cunt and her anal hook dangling around. Mila loves rough sex, pulling Isa onto her rubber black cock deep and hard. Ava shoves her strapon deep down Isa's throat, making her gag and scream for mercy. They make her apologize for being a dirty slut, continuing the double penetration, slapping her tits and spanking her ass. Her ass is almost as red as her lips tattoo. They pull her around on the bed, flip her back and forth on her back and stomach, legs pulled down by her head. The Mistresses enjoy wrecking her holes. They even brought a dick on a stick, a dildo attached to a handle for jack hammer pussy stretching. Isa is such a great sex slave, giving her Masters whatever they want, enjoying every minute of it.
Latest StrapOnSquad.com Updates