Latest StrapOnSquad.com Updates
Aryah May, Brooklyn Daniels, Mila Blaze
April 8, 2016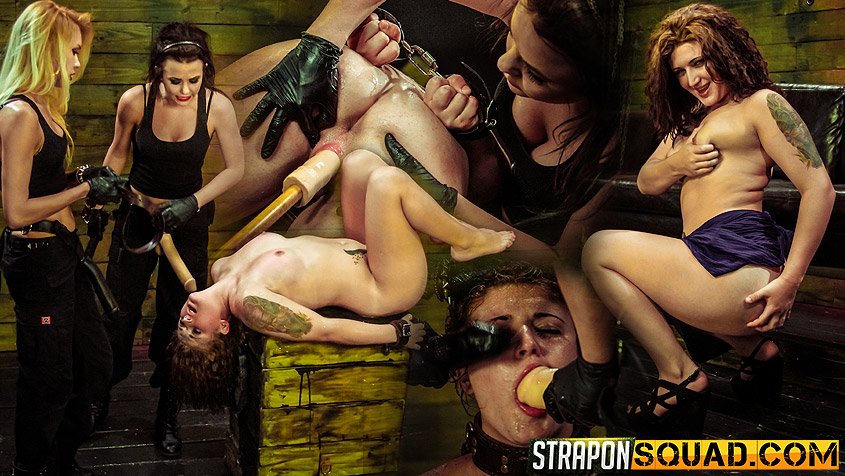 The hot and horny pain slut Aryah May told us she wanted another go with her BDSM Mistresses Brooklyn Daniels and Mila Blaze. This lesbian domination threesome is definitely one of hottest on Strapon Squad. Aryah left with a gaping pussy, completely drained of any vaginal fluids, squirting constantly thanks to Brooklyn. If she wants another round, no problem! Aryah May is pulled into the dungeon and tied to a crate, bent over and ass up. Oh, and neck up. Her throat will be fucked deep throughout with the infamous black strapon dildos. They seem to get bigger every session. They warm her pussy up with a vibrator, rubbing it hard against her pretty little slit. It's tightened back up, yet it won't last for long. Brooklyn grabs a dick on a stick and lubes it up to slide in and out of Aryah, giving it to her rough, pounding in fast. A handle for a dick is quite the sex toy. Of course big black rubber dick driven on the hips of our Mistresses is the real challenge, one down her throat, the other up her pussy. Aryah definitely feels them, slobber pouring out of her mouth, squirting constantly. She loves it, especially when they flip her around and continue the double penetration, taking turns on her holes and using the sex toys. They even zap her with the electro wand, tensing her up for more pounding. Pussy juice streams out of this pain whore every time she's in bondage. That's what we want!
Becca Diamond, Brooklyn Daniels, Mila Blaze
April 1, 2016
Brooklyn Daniels has been granted her Mistress status. We're glad. We've paired her and Mila Blaze to unleash some Lesbian BDSM fun on our favorite muscle MILF, international hottie Becca Diamond. She's taken a few hung dicks here at Fetish Network while bound up during hardcore bondage scenes. Can she handle a lesbian domination threesome? Only one way to find out. Brooklyn and Mila start Becca on the sybian fucking machine, tied down with tight rope. You know these two had to bring a rope bondage scene for this strong booty. She struggles and tries to get off but she isn't going anywhere. These two Mistresses know what they're doing. Diamond is known for her deep throat and pussy swallowing talents. When she sees the strapons her Mistresses are wearing, she rethinks taking dick all together. She has no choice. She's deep throat-ed within seconds, both mean girls taking turns fucking her skull in. Both turn the vibration and speed up and down, tormenting Becca's infamous meaty clit. They slap her tits and want to hear say what dirty whore she is, a nasty bitch. It takes a few slaps and throat pounding to get it out of her. They finally pull her of the sybian and tie her to two horizontal posts, wrists and ankles keep her in place, kept in the doggy position. Everyone knows it's perfect for double penetration. Becca really experiences two massive rubber dicks entering both ends at the same time. The Mistresses pull out their dicks on sticks, slipping them in through spanking, slapping and water boarding. Maybe Becca will think twice before doing another scene with us.
Jynx Hollywood, Mena Li, Lexy Villa
March 25, 2016
Remember Jynx Hollywood, the hot suicide girl that BDSM Mistresses Mena Li and Lexy Villa brought back to the dungeon? If not, get ready for the perfect lesbian domination threesome video to freshen your recollection. Thing is, Mena and Lexy never let Jynx go. Watch as Jynx is kept tied to hooks on the wall, legs covered in a pair of tight black pantyhose with a potato sack over her head, still tired and sore from her last sex slave training session. She took to it so well, especially with all the water splashed in her face. Mena and Lexy enter and shake her up a bit, pull off the sack and slap her tits around. Mena brought a leather blindfold and happily covers Jynx's eyes. The Mistresses untie her and bring her over to the bed they set up, tying her wrists back to a post on her stomach. Her back is to remain arched so her ass can pop up beautifully for strapon dildos our Mistresses never leave at home. If she fails, she'll definitely get a spanking and more water poured over her face. Mena rips the bottoms of the nylons, exposing Jynx's hot white bubble butt. Mena and Lexy take turns using Jynx's pussy and mouth, double penetration majority of her time on the mattress. They don't stop taunting her, making her apologize for being such a whore, use more water on her face, fuck her rough, making her gag up spit which only allows the rubber dicks to slide down her throat easier. Hearing Jynx gag and screaming she's a dirty slut will make anyone cum in their pants. Mena is so turned on, she takes off her shirt and pulls off her bra, shoving Jynx's face between her perfect bouncy breasts, using the shirt around Jynx's neck. They want Jynx to cum a few more times no matter what it takes. We're sure we'll be seeing more of this trio.
Isa Mendez, Abbi Roads, Lexy Villa, Brooklyn Daniels
March 18, 2016
The submissive and obedient sex slave Isa Mendez has been begging us to end up in the dungeon again. She seems addicted to lesbian domination, threesomes if possible. She loves being slapped and spanked, gagged and fucked roughly, deep and hard down her throat and pussy. We definitely have everything Isa wants. Brooklyn Daniels and Lexy Villa heard about her desires and took it upon themselves to bring their kinky Latina hottie over. They place a tight leather collar around her neck, cuffs on her wrists, linking them to the collar. They brought out the sofa this time, sitting Isa on it, yet her legs chained apart. Brooklyn and Lexy come in and slap her pussy awake. They want her to cum a few times before they double penetrate her. A vibrator usually does the trick. They lube her cunt and spread the wand all over her clit and pussy lips. Lexy climbs up on the sofa and stuffs her hung strapon deep down Isa's throat. She can't focus on cumming and giving Lexy's big black rubber cock a proper deep throat blowjob. She keeps gagging up spit. Our hot BDSM Mistresses unchain Isa's ankles and flip her over, her arms, shoulders and head over the back of the couch. Lexy lubes up her cock and pushes it deep inside Isa's pussy. Isa tries to get away but only ends up taking Brooklyn's rubber cock in her mouth. Isa's hot body spread out doggy style, double penetration with huge strapon dildos, will make everyone cum in their pants. They flip her over and keep fucking her rough. They flip her over again and keep the rough sex going. Isa can hardly move, slapped into the position they want her in. Seems this sex slave does need more training. They pull her off the couch and takes turns fucking her throat. Isa keeps begging for more. What a good slut she is!
Rose Red, Lexy Villa, Brooklyn Daniels
March 11, 2016
We're excited to share this video, another great clip with the lesbian domination threesome Rose Red, Lexy Villa and Brooklyn Daniels. This time around Rose Red's Mistresses want her to endure more constant orgasms. Why not start it off with the infamous sybian fucking machine. The vibration it gives has made many models squirt, especially in our BDSM scenarios. Lexy and Brooklyn give their eager sub slut more rope bondage, tying her tight to the sybian, wrists tied behind her back, tasty clit kept on the flesh pad. Brooklyn begins the torment with a light buzz, Lexy standing over Red, slapping her breasts and face with her 10" strapon. Brooklyn raises the dial, Lexy pulls Red's ball gag out and both Mistresses take turns sliding their rubber black dicks down Red's mouth, deep throating their whore rough and fast. The vibration is heightened, testing Rose's focus. It seems she needs to cum. She's a good slut. She asks her Mistresses permission first. She's denied. Vibration intensified, Lexy and Brooklyn push Red down onto the machine and shove their dicks in her mouth. Rose Red holds her nut until her Mistresses finally give her permission. Her pussy becomes sensitive. Perfect! Lexy and Brooklyn untie her off the sybian and pull her down hard onto a crate, tying her in place doggy style. The double penetrate her, one big black strapon in her mouth, the other pounding her pussy in. They flip her around and tease her clit more with a vibrator, making her beg to cum over and over, gagging her with more throat fucking, fingering and rough cunt sex. They've tied her legs bent, so she won't be running away. She's so exhausted from cumming so much. But her Mistresses aren't finished.
Marina Angel, Riley Ray
March 4, 2016
We all thought Mistress Riley Ray let her sex kitten Marina Angel go after their last session. We were wrong. Riley kept Marina in a dog cage, wrists chained to the cage, sitting on a sybian fucking machine with a huge dildo pushed through the rails to act as her water dispenser. Is everyone ready for some pet play? Riley starts the session off with the sybian. Marina can't move so she will endure every bit of vibration Riley gives her, teasing her with the control panel. Marina begs to orgasms over and over, soaking the vibration pad. It makes Riley jealous. So she pulls out her favorite dildo, props her leg over the cage, pushes aside her panties and jack hammers her pussy. That makes Mistress Riley Ray squirt all over her hot and kinky pet who laps it all up. The lesbian domination doesn't end there. Riley opens the cage door and leads Marina out, running her hands all over, spanking her ass and tits, leaving hand prints all over. Riley takes the same dildo she used on herself and makes Marina cum a few times with it, making Marina clean it with her mouth, deep down her throat, making Marina gag up more spit. Riley is ready to fuck. She even pumps up Marina's pussy. She slips on her enormous 10" strapon, spreads Marina's legs and practically wrecks Marina's hole, pounding in every inch. She fucks her rough, deep and hard, on the floor and on top of the cage. Marina loves being used by her Mistress, cumming whenever Riley tells her to, backing up on the rubber dick. Riley leaves Marina trembling. But Riley isn't done with her yet. She pushed Marina back in the cage for more fun later on.
Alby Rydes, Esmi Lee
September 25, 2015
Fetish Network presents another great session with one of our favorite porn sluts: the sexy and horny Alby Rydes. She is back in the studio for more lesbian domination. Mistress Esmi Lee put a request for her and is finally getting her prize. Mistress wants to warm Alby up with constant orgasms and leads her to a sybian fucking machine after getting her pussy eaten by her new slave. A quick taste. Rydes will be bound with tight rope for a deepthroat blowjob. Esmi brought a special big black strapon dildo for Alby. Both models are amazing at having hardcore BDSM fun with rope bondage, rough sex, spanking, slapping tits, biting nipples, smacking, flogging, deep penetration, constant orgasms and more sex toys. The chemistry and attraction between Esmi and Alby is so fucking hot!
Marina Angel, Esmi Lee, Abella Danger
September 18, 2015
Hot and slutty Marina Angel loves lesbian domination threesomes, the kind only Mistress Esmi Lee & Queen Abella Danger can give. Of course, she will be bound with tight rope for deepthroat blowjobs and double penetration. You know they never leave home without their big black strapon dildos. They're the best at having hardcore BDSM fun with rope bondage, rough sex, spanking, slapping tits, biting nipples, smacking, flogging, deep penetration, constant orgasms and more sex toys. Marina Angel loves big cock and dildos, so she's left gaped in her own spit and juices begging for more.
Kaisey Dean, Marina Angel, Esmi Lee
September 11, 2015
Hot and horny Kaisey Dean loves is lesbian domination threesomes, the kind only found at Strapon Squad. This time around Kaisey's Mistresses Marina Angel & Esmi Lee want her to endure constant orgasms. Why not start it off with the infamous sybian fucking machine, a favorite for our BDSM scenarios. Of course, she will be bound to it with tight rope to give her Mistresses deepthroat blowjobs. You know they never leave home without their big black strapon dildos for double penetration. They're the best at having hardcore BDSM fun with rope bondage, rough sex, spanking, slapping tits, biting nipples, smacking, whipping, deep penetration, constant orgasms, sex toys and nipple clamps. Kaisey Dean loves big cock and dildos, so she's left gaped in her own spit and juices begging for more.
Marina Angel, Esmi Lee
September 4, 2015
The cute and kinky Marina Angel loves lesbian domination and has proven to be quite the obedient sex slave. Mistress Esmi Lee steps right up to direct a session with a focus on constant orgasms. The infamous sybian fucking machine is prepped at once. Of course, Marina will be bound to it with leather wrist and ankle cuffs as a dildo-on-a-stick in shoved in her mouth for an endless deepthroat blowjob. Esmi uses her big black strapon dildo for fucking later on. She's quite good at having hardcore BDSM fun with bondage, rough sex, spanking, slapping tits, biting nipples, smacking, whipping, deep penetration, constant orgasms and more sex toys. The ending to this particular video will make you cock explode. Esmi squirts all over her submissive slut's face, making Marina drink every last drop.
Latest StrapOnSquad.com Updates